World Class Manufacturing: occupational health and safety
di Chiara Paolini
Premio AiFOS 2015
Corso di Laurea Magistrale in Economia, Politiche Pubbliche, Ambiente e Cultura (Università degli studi del Piemonte Orientale)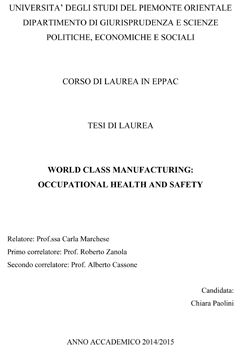 The manufacturing world has faced many changes throughout the years and as a result the manufacturing industry is constantly evolving in order to stay ahead of competition. In the attempt to continuously improve management processes and production systems, many new manufacturing approaches emerged.
World class manufacturing (WCM) represents one of the answers to these needs. The thesis describes principles and concepts of this new production management systems. The extent to which WCM is adopted in Fiat Chrysler Automobiles (FCA) company is examined. Focusing on FCA Italian plants (N = 4714), employees' perceptions on health and safety are investigated taking into account the main work organization practices introduced by WCM.
Multinomial logistic regression analysis shows that there exist a positive relationship between the level of WCM implementation and the perceived level of occupational health and safety. The analysis also suggests that gender and age affect differently the perception of health and safety and the role of WCM in its improvement.